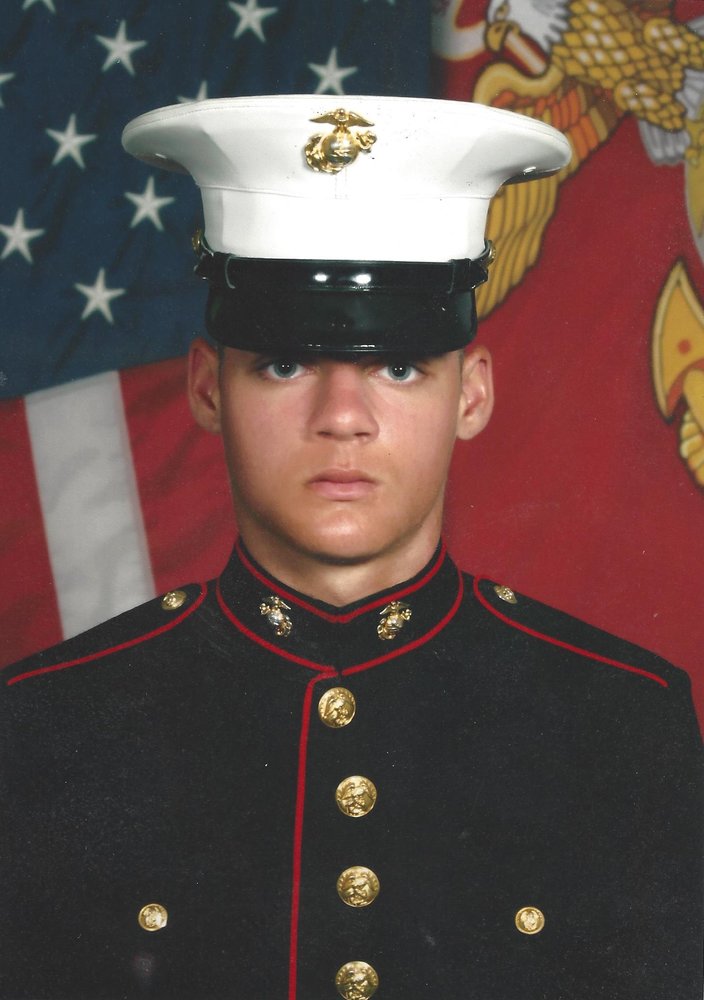 Obituary of Leon Nathan Donelson III
Lance Corporal Leon Nathan Donelson III was born October 10, 1996 in Ft. Hood, TX to Leon Nathan Donelson and Tina Marie (Sullins) Donelson-Floyd. He passed away on August 5, 2019 at the age of 22 at Camp Lejeune, NC.
Leon went to Green Forest School until he graduated from 8th grade. During this time, he developed a love for basketball began as he played for the Green Forest Mustangs. After 8th grade graduation, Leon went to Licking High School. He played basketball for the Licking Wildcat basketball team and became a track star. Leon held the pole vault record until the 2019 track season. He loved hanging out with his buddies and was well liked by his classmates. Leon graduated with the Class of 2015.
Leon joined the Marines in the fall of 2015. He went to Basic Training at the Marine Corps Recruit Depot in San Diego, CA. After Basic Training he attended school in Virginia. Leon was then stationed at Camp Lejeune where he also served an overseas tour, spending a year in Norway.
In 2017, he met and married Andrea. In June of 2019 they welcomed a baby girl, Emersyn. She sure put a smile on his face!
Leon is survived by his wife, Andrea; daughter, Emersyn; parents, Tina and Corey Floyd of Kimberling City, MO and Leon and Lissa Donelson of Evans Mills, NY; siblings, Skyleer and Eli Floyd of Kimberling City, MO and Preston, Alexandra, and Jayce Donelson of Evans Mills, NY; grandparents, Benny Jo and Carla Sullins of Licking, MO, Sharon Decker of Mountain View, MO, Bill Floyd of Licking, MO, and Loleater and William Gibson of Vallejo, CA; aunts and uncles, Billy and Rhonda Sullins of Crocker, MO, Leonard Earl Clemons of Miami, FL, Petty Officer First Class Derrick Clemons and Petty Officer Second Class DeAndra Jex of San Diego, CA, Terry Collier of Las Vegas, NV, Reginald Wells of Chicago, IL, Bill and Haley Joyner of Licking, MO, Shane Floyd of Chillicothe, MO, his uncles Jeffrey, Eldridge and Blake, and his aunts, Sherida, Dionne, Keyshonna, and Dana. Along with a host of cousins and extended family members.
Leon is preceded in death by his grandfather, Leon Nathan Donelson and grandmother, Sandy Floyd. He loved her homemade apple pies and she would make one for his birthday every year.
His cousin Bailie wrote, "I read something one time that said 'your cousins are your first best friends,' and I feel that's pretty accurate with us girls and boys. We've all been pretty close growing up. I know you're with nana now having a blast. Love and miss you a ton."
Memorial contributions in Leon's name may be left at Fox Funeral Home.
To send flowers to the family or plant a tree in memory of Leon Donelson III, please visit Tribute Store
Visitation
4:00 pm - 8:00 pm
Wednesday, August 21, 2019
Fox Chapel
128 S Main St
Licking, Missouri, United States
5736742293
Funeral Service
4:00 pm
Thursday, August 22, 2019
Licking High School Gym
125 College Ave
Licking, Missouri, United States
Interment
5:00 pm
Thursday, August 22, 2019
Boone Creek Cemetery
Hwy 137
Licking, Missouri, United States
Share Your Memory of
Leon