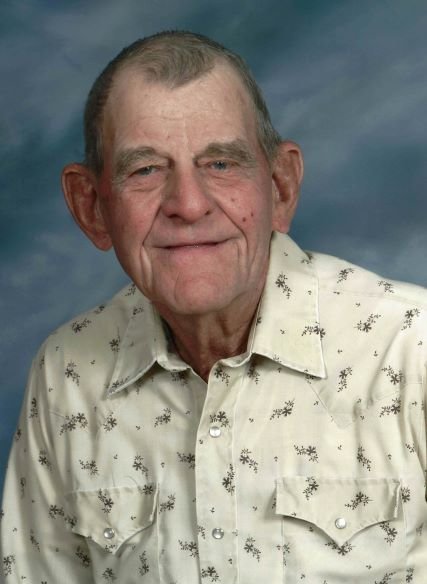 Obituary of Roy D. Edgar
Roy Dale Edgar, age 88, son of Kenneth and Annie (Craddock) Edgar, was born May 17, 1931 in Edgar Springs, MO. He peacefully went to be with the Lord on June 21, 2019 in Houston, MO.
Roy grew up in the Edgar Springs area. He was married to the late Nettie Lee Clift and to this union two children were born, Roy Lynn and Gary Henry Edgar.
Roy was faithful to his church community and continued to attend services at the Edgar Springs First Baptist Church until he was unable to physically do so.
Roy attended the Weber School through Eighth grade, then continued on to graduate from Anutt School.
Roy was known for his love to cut wood and farm. Roy drove 10 wheeler trucks in the 70's hauling grain, livestock, and fertilizer. Roy continued to build his own truck garage and feed store, R and G Farm Supply. Roy and Nettie operated the store for the community. Roy loved country and gospel music. He and Nettie often went square-dancing. Roy and Nettie were awarded Phelps County Farm Family in 1971. Later, Roy loved to go to Rambo Church monthly for the Gospel singing.
He is survived by his estranged wife, Graciela Delgadillo of Mexico; son, Gary and Teresa (Johnson) Edgar of Edgar Springs, seven grandchildren, two step grandchildren; numerous great grandchildren; seven step great grandchildren; siblings, Lloyd and Saunder (Dunham) Edgar, Bill and Judi (Ayers) Edgar, Thelma Edgar Fore, and Verdean Edgar (husband, Lucas) Lawrence.
He was preceded in death by his parents; wife, Nettie Lee Clift Edgar; brother, Glenn Franklin Edgar; and son, Roy Lynn Edgar.
Services were held on Monday, June 24, 2019 at 11:00 AM at the First Baptist Church in Edgar Springs with Pastor Dean Switzer officiating. Burial was in the Roseberry Cemetery under the direction of Fox Funeral Home. Pallbearers were: Jesse Edgar, Jeremy Buckner, Dakota Stoops, David Edgar, Keith Fore, and Dennis Newkirk. Honorary pallbearers were: Billy Edgar, Joshua Wisdom, Jacob Wisdom, James Edgar, Kenneth Edgar, Roger Edgar, Richard Edgar, and Danny Roberts.
Memorial contributions in Roy's name may be made to Fox Funeral Home, Roseberry Cemetery, or Gary Edgar.
To send flowers to the family or plant a tree in memory of Roy Edgar, please visit Tribute Store
Visitation
10:00 am - 11:00 am
Monday, June 24, 2019
First Baptist Church of Edgar Springs
Hwy FF & Broadway St.
Edgar Springs, , Missouri, United States
Funeral Service
11:00 am
Monday, June 24, 2019
First Baptist Church of Edgar Springs
Hwy FF & Broadway St.
Edgar Springs, , Missouri, United States
Interment
12:00 pm
Monday, June 24, 2019
Roseberry Cemetery
County Road 6310
Edgar Springs , Missouri, United States