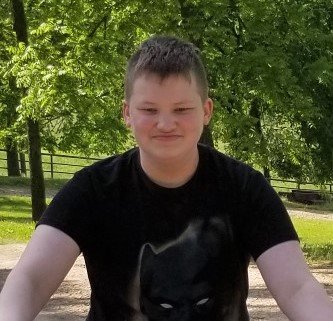 Obituary of Colton Levi Ogden
Colton Levi Ogden was a special young man. He was quiet and somewhat shy and didn't have a lot to say at times. He would sit quietly and take in all that was going on around him.
Colton was very polite and not given to back talking or arguing. He would rather read a book or play video games or play pranks on his family.
He loved to pull his mom's arm behind her back while she was cooking dinner. He called this a "chicken wing" from watching wrestling movies. Then he would ask her "whatcha gonna do now?"
He delighted in snapping his family with a rolled-up towel and asking, "did that hurt?" while snickering.
As a little boy, Colton enjoyed playing with John Deere tractors, cows, and wrestling figurines. His favorite foods were fried chicken, chicken and dumplings, cranberry sauce, pizza lunchables, and root beer.
Colton preferred simple things. He didn't like dressing up and just wanted to be comfortable. He lived in shorts, t-shirts, and flip flops. He was always teased by his sister, Hannah, that penguins could live in his room because he kept it at 60 degrees. He found that very funny.
Colton has just gotten out of school for the summer and was looking forward to summer vacation. He was feeding his own bottle calves, a few weaned calves, Sir the horse, the pond fish, and the dogs. He had a special love for a little orphan kitten he had found in the barn. He went every night around dark with a flashlight to tend to this poor little kitten. He took it warm milk, fresh water, cat food, and alternated with hotdogs and bologna. He usually spent an hour with it every night, giving it special attention. His mother told him the kitten probably thought he was its momma and that made him smile.
He was planning on helping his dad some with the hay field this summer and both he and his dad looked forward to this.
Colton was usually the last to retire at night, but no matter what else was going on he always stopped by his parent's bedroom and told them goodnight and that he loved them.
These may seem like small, insignificant things, but they aptly describe a young man who was kind and honest, who had a sense of humor, who desired simple things – a young man who would take a stand for what was important to him.
He suffered from travel sickness and even with medication and sitting in the front seat, he would still get very sick. He would go on the family vacations, but he always ended up ill. Even shorter trips could make him miserable and he preferred to stay home where he could keep and eye on things.
The day of Colton's accident was one that he had really been enjoying. The family had played cards and Colton won most of the games – he liked to win! It was a day with family, and he was laughing, smiling, and having a good time.
In the blink of an eye, he passed from having a wonderful, fun day with his family to being with his heavenly father.
The hopes and dreams that his earthly parents wanted to share with him came to an end, but they find comfort that his gentle soul resides within the care of Jesus.
They will forever miss this giggling laugh, his sweet smile and teasing pranks. They wait each night to hear him come in and tell them goodnight and that he loves them.
They will always wonder about what he would have done with his life. But they will always be thankful for the time they had with this beautiful, sweet boy and the joy be brought to their lives.
The whole family thanks each and every one who has shown them such love and support these past few days. Hearts were shattered and feelings were numb with disbelief over what had happened. But God sends comfort in his promises made and sometimes his love for us appears in the form of friends, neighbors, and family that come bearing food and supplies and hugs and shoulders to cry on and stories shared.
In the days ahead, that will bring them comfort. So many spoke about what a sweet boy he was, and that soothes a parents' aching heart and makes them proud of the young man he was.
So, Colton, we love you and miss you terribly. We wish you Godspeed with all our love until we meet again. And as a closing thought, you might not want to try that "chicken wing" move on any of the angels…at least not for a little while.
Colton was born on April 12, 2005 in Springfield, MO. He passed away on May 26, 2019 at the age of 14, in Houston, MO.
Colton is survived by his loving parents, Roy and Shellie Ogden; sisters, Hannah Ogden, Jennifer Ogden-Porter (husband, Mason Porter), and Natasha Ogden; brothers, Dalton Ogden and Carlos Ogden; and grandparents, Bob Lane and Ron and Judy Moncrief. He is preceded in death by his grandparents, Bill Ogden and Deloris Lane; and uncle, Carl Ogden.
In lieu of flowers, memorial contributions in Colton's name may be made to Fox Funeral Home to assist with funeral expenses or Zion Cemetery.
To send flowers to the family of Colton Ogden, please visit Tribute Store
Visitation
6:00 pm - 8:00 pm
Wednesday, May 29, 2019
Fox Chapel
128 S. Main Street
Licking, Missouri, United States
573-674-2293
Funeral Service
11:00 am
Thursday, May 30, 2019
Church Of Christ
203 S Main St
Licking, Missouri, United States
Interment
12:30 pm
Thursday, May 30, 2019
Zion Cemetery
Hwy 32
Licking, Missouri, United States
Share Your Memory of
Colton