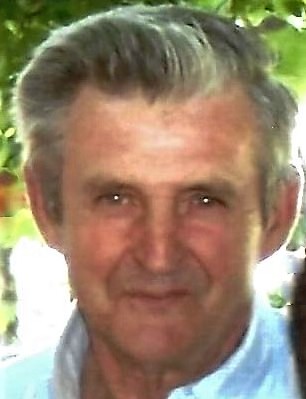 Obituary of Robert "Bob" W. Sherrill
Robert "Bob" W. Sherrill passed away peacefully at his home, with his wife Carol by his side, on February 16, 2019. Robert was born on May 16, 1938 in Licking, Missouri to Heber and Elzina (Cotton) Sherrill.
As a young boy, Robert enjoyed riding his pony "Thunder" around town. He attended Licking schools and graduated from Licking High School in 1956. He served in the Army reserves for several years after high school. On December 16, 1961 Robert married Carol Jean McCallister. They were blessed with four children, sons, Robert Lynn, Jimmy Wayne and Billy Joe and one daughter, Shirley Jean.
Robert enjoyed farming for many years and was still concerned for his cattle until his death. He had a special love for horses and enjoyed trail rides with his sons when they were younger. He enjoyed visiting with customers at "Sherrill Sales" which he operated with his brother James and later his wife Carol until closing in February of 2007. He continued doing oil changes and fixing tires when asked, he hauled cattle for friends and neighbors and helped pull calves when called upon until his injury in December of 2016.
Most of all, Robert enjoyed being around family. He was a proud grandfather and even more proud great-grandfather. He could often be seen with his faithful companion of the last 13 years, his dog "Suzie", who misses him dearly already.
Robert was preceded in death by his parents, sisters; Mary (Lloyd) Edwards, Mabel (Russell) Lee; brother, James Sherrill; daughter, Shirley Jean Sherrill and nephew, Billy Dale Bishop.
He is survived by his wife of 57 years, Carol Sherrill; sons, Robert (Jennifer) Sherrill of Springfield, MO, Jimmy (Kathryn) Sherrill of Licking, MO and Billy (Tamara) Sherrill of Goodson, MO; sisters-in-law, Carmileta (Charles – deceased) McCallister of Rolla, MO, LeAnn (Lonnie – deceased) of Houston, MO and Juanita (Ervin – deceased) Fisher of Theodosia, MO; grandchildren, Hannah (Glenn) Sparks, Latham Sherrill, McCallister Sherrill, Ashley (Jordan) McDonald, Jacob Sherrill, Kimberley Sherrill and Bradley Sherrill; great-grandchildren, the apple of his eyes, Morgin, Waylin, Embersin, Charlotte, Madelynn, Riley, James and Luke and many cousins, nephews and nieces.
To send flowers to the family or plant a tree in memory of Robert "Bob" Sherrill, please visit Tribute Store
Visitation
6:00 pm - 8:00 pm
Friday, February 22, 2019
Fox Funeral Home
128 S. Main Street
Licking, Missouri, United States
573-674-2293
Funeral Service
10:00 am - 11:00 am
Saturday, February 23, 2019
Fox Funeral Home
128 S. Main Street
Licking, Missouri, United States
573-674-2293
Burial
11:00 am - 11:00 am
Saturday, February 23, 2019
Licking Cemetery
Hwy 63
Licking, Missouri, United States