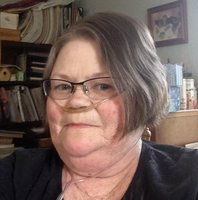 Martha "Susie" Maddox
Martha "Susie" Sue Maddox, 62, of Licking, MO passed away February 9, 2019. Susie was born on July 4, 1956 in Mexico, MO, the daughter of Walter "Tub" and Mamie (Thomas) Maddox.
Susie retired from Rawlings where she worked for many years as a Seamstress. In her free time, she enjoyed gardening, scrapbooking, crafting, quilting, card making, needlepoint, and horses. Her life revolved around her family, friends, and her church.
Susie is survived by her son, John Akers of Licking; two grandchildren; four great grandchildren; sisters, Mary Maddox of Readsville, MO and Sandy Blankenship (husband, Wendell "Spanky") of Fulton, MO; and brothers, Mike Maddox (wife, Becky) of Mexico, MO, Joey Maddox (wife, Barb) of Rolla, MO, and Jim Maddox (wife, Sandy) of Licking, along with all of her nieces and nephews and their children whom she cherished as her own. She is preceded in death by her parents, Walter "Tub" and Mamie Maddox; sister, Barb Carroll; brother, Vernon Matthew Maddox; and grandparents, Jack and Edna Thomas and Tobe and Agnes Maddox.