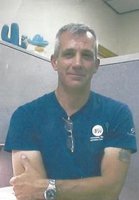 Gregory Ralph Daniel Brown
Gregory Ralph (Daniel) Brown
Gregory Ralph Brown was born October 1, 1958 in St. Louis MO to Jerry Ralph Brown and Marianne Margaret (Sullivan) Brown. He passed away at his home in Licking surrounded by family and friends February 28, 2018 at the age of 59.
On July 7, 2012 Gregory married the love of his life, Lorie.
Gregory was preceded in death by his mother and father.
Gregory is survived by his wife; three brothers, Gene, Tom, and Keith; three children, Lori Brown, Amy Brown and fiancée Matt, James Brown and wife Sarah; one stepson, Nathan Mutzebaugh and wife Katie; one stepdaughter, Courtney Buckner and husband Michael; and seven grandchildren, Chloe, Ethan, Xander, Aiden, Gwendolyn, Blake and Lilliana who is on the way.
Gregory served in the Marine Reserves before he was hired at Intercounty Electric Co-op. He was a lineman for 31 years, and has spent the last 10 years serving the co-op as a Staking Engineer.
In his free time, Gregory enjoyed going to the casino, camping, and gardening. He especially enjoyed spending time with family and friends—along with his puppy girl, Foxy by his side.
Greg was known for his corny jokes and witty sense of humor. People enjoyed talking with Greg because of his genuine personality and his easy going ways. He will be remembered and missed by all those whose lives he touched.
Pallbearers are Bob Robinson, Scott Cahill, Steve Atkinson, Mike McWhorter, Roy Cook, Brady Shepherd, Keith Cantrell and James Brown. Pastor Darius Wentz is officiating.