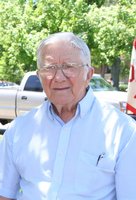 Howard Samuel Ryno
Howard Samuel Ryno, age 89, son of William Claud and Inez Emma (Lee) Ryno, was born on February 8, 1929, in Blooming Rose, MO. He passed away February 28, 2018 at Phelps County Memorial Hospital. On August 23, 1952, Howard was united in marriage to Carolyn Jane Ritz, and to this union 3 children were born: Terry, Dennis, and Pamela.
After meeting the love of his life at a local skating rink in 1951, he began his family legacy which would span many different generations. Howard was united in marriage to Carolyn Jane Ritz on August 23, 1952, and celebrated 65 years of marriage and love together.
Howard built the family home in Palace, Mo, where he and Carolyn resided and raised their children for most of their married life.
Howard grew up in the Blooming Rose community, and graduated from Licking High School. Howard attended church as he was growing up in the Duke community, where he later accepted Christ as his savior during a brush arbor meeting at Democrat Ridge Church while in his teens.
Howard was a hard worker, always providing for his family. He worked many jobs, which gradually led him to his job at Fort Leonard Wood, MO as a food service manager for AAFES, where he retired in 1971, after 31 years of dedicated service. During this time he cared for many soldiers and their families, and made many friends and acquaintances.
After retiring from AAFES, Howard became more active in his hobby of attending auctions and buying and selling items, bidding on treasures. Howard worked with the Roby Auction Service, spending many wonderful evenings in the local auction barn, where he again made many friends. This love of auctions, buying and trading was later shared with his oldest son Terry.
Howard and his wife Carolyn later took his hobby to higher levels, opening Howard's House in Licking, MO where they operated the store for 20 years before closing. Howard stayed active in attending auctions and wholesale warehouses, where he stocked his store with many treasures that customers loved to browse and buy, often just stopping in to share stories and to see what new items were in stock.
Howard is proceeded in death by his parents, Claud and Inez Ryno, as well as his brothers, Harvey Ryno, Wendall Ryno, William Ryno, Arlie Ryno, and his sister, Vergena Keaton.
Howard is survived by his wife of 65 years, Carolyn of Plato, MO; two sons, Terry Ryno and wife Patricia of Louisburg, MO, Dennis Ryno of Plato MO, and a daughter Pamela Hutsell of Waynesville, MO.
Howard loved his family, enjoying the time at auctions with his son Terry, spending hours talking about tools and pricing of items, and with Dennis, who cared for Howard during the time when his health was failing, bringing bright moments to his dad with Chocolate Milkshakes, cheeseburgers, and lots of sweets! Howard spent time with his daughter, Pam, enjoying moments helping to coach his granddaughter's softball team, and giving her support in so many ways. Howard loved his daughter-in-law, Pat, caring for her as his other daughter, enjoying her cookies and homemade rolls she brought for him on Sundays.
Howard is survived by his beloved grandchildren, to whom he was a hero, a protector, and a role model for each one. He is survived by his grandson, Tony Ryno and wife Lisa of Wakeman, OH, Jonathan Hutsell of Waynesville, MO, his granddaughters, Ashley (Hutsell) Wildrick and husband Mark of Waynesville, MO, Heather (Hutsell) Powery and husband Eric of Waynesville, MO, and Melissa Davenport of Republic, MO.
Howard's heart was full, spending many days taking his granddaughters to watch the Lady Bears games, and on many trips, traveling to see the world. He rarely missed a ball game that his grandchildren were playing in, always their biggest cheerleader. Howard was so happy to later become a grandpa to his beautiful red haired Lisa, and loved each one unconditionally.
Howard is survived by his great-grandsons, Dakota and Christian Davenport of Republic, MO, and 6 little loves of his life; Malachi, Makaio, and Mila Powery of Waynesville, MO, Sophia and Avrum Wildrick of Waynesville, MO, and his newest little love, Cora June Ryno of Wakeman, OH.
Howard is survived by numerous other family members and friends made throughout the years.
Howard loved the outdoors, enjoying hunting and fishing. Howard loved traveling with his wife, Carolyn, and often included other family members on their trips to many states, with a particular love for Arizona and the Indian reservations, and Colorado where he loved the mountains. Howard loved to camp, and would stay anywhere he could find a place to set up his tent or camper. Howard loved Friday evenings eating fish dinners at the Roby Café, and anything to do with auctions and trade shows. Howard loved wood working and collecting antiques and tools. Howard was a rock for his family, a trusted man, one who never knew an enemy. Howard was a sport's fan of the St. Louis Cardinals, the Lady Bears, and of course his granddaughters, Ashley and Heather's high school games. Howard was a quiet man, patient and a calming presence to his family. He loved being Papa to his little ones; they were the love of his life.
Howard never lost his sense of humor, even when his health was failing. Howard brought laughter and smiles to his family even at the hardest of times. Howard is now rejoicing with the angels and is probably trying to bid on a mansion in Heaven, preparing for his family to see him again one day. He will forever be present in his family's hearts, present in the love that he instilled upon each one, he will always be loved, and our hero.
Ecclesiastes 3:1-4
"For everything there is a season, and a time for every matter under heaven; a time to be born, and a time to die; a time to plant, and a time to pluck up what is planted; a time to kill, and a time to heal; a time to break down, and a time to build up; a time to weep, and a time to laugh; a time to mourn, and a time to dance."
Our superhero, fly high with the angels, and until we once again can hold your hand and hug your neck, know that your life here on earth was not in vain. Your love will live on in our hearts, and your legacy will always remain forever in everything that we do. Someday we will see you again, somewhere over the rainbow, way up high!