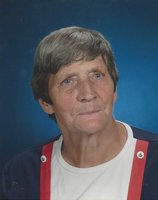 Lorene Reddy
Annie Lorene (McCall) Reddy was born September 13, 1932 in Oregon County, MO to the late Earl McCall and Martha Jane (Miller) McCall. She departed this life on February 20, 2018 at Hickory Park Manor in Licking, MO at the age of 85.
Lorene was united in marriage to William Reddy in 1954. To this union two children were born.
She was a member of the Licking United Methodist Church where she attended as long as she was able. Lorene enjoyed being with family and friends. Her hobbies included gardening and making quilts; many of which she gave to family and friends.
She is preceded in death by her parents; infant brother, Cecil; sisters, Marilyn Beasley, Suzy Martin, and Velma Storie; and grandson, Brandon Bland.
Lorene is survived by her daughter, Sharon; son, Steve; sisters, Geneva Bradshaw, Vivian Chitwood, Bella Parks and husband Don and Stella Parks and husband, Bonard; brothers, Merl McCall and wife, Glenda, and Darrell McCall and wife, Carolyn; a very special friend, Michelle French; six grandchildren, seven great grandchildren, one great great grandchild and many nieces, nephews, and friends.
Lorene was a loving mother and grandmother. She will be greatly missed by her family and friends.