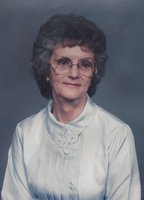 Geneva McNew
Mildred Geneva (Ritz) McNew was born November 14, 1932 at Prescott, Mo, to the late Jacob Albert Ritz and Minnie Mae (Hicks) Ritz. She went to be with Jesus, February 15, 2018, at the Texas County Memorial Hospital in Houston, Mo at the age of 85.
Geneva was united in marriage to Harvey Ryno, June 26, 1954, and to this union there were two children, Jerry Wayne Ryno and Debra Sue (Ryno). Jett. On June 26, 1992, Geneva married Dallas McNew, who had 4 children, Linda Lewis, Dalisa Gunn, Debra Jeffries, and Sharon McNew,.
Geneva graduated from Licking High School where she enjoyed playing trumpet in the Drum Corp and singing in the Glee Club. She was also a member of the Pep Club and FHA.
She worked many years at the Rawlings Factory sewing baseballs and then Cardinals uniforms. Her career ended because she wanted to spend her time with the love of her life, Dallas.
Geneva and Dallas loved to travel in their 5th wheel camper. They spent their summers visiting national parks and Florida beaches. They spent their winters in Yuma, Arizona. But Geneva loved coming back home to Licking to babysit her grandchildren. She also enjoyed working at the Licking Community Center, visiting with co-workers and patrons and finding all the bargains. In her later years, she loved going to McDonald's, where she made numerous friends. She also loved going for car rides with Jerry.
Geneva accepted Jesus as her Lord and Savior in her early twenties and attended the Licking Assembly of God Church. There she taught Sunday School, Vacation Bible School, and sang in the choir. She later became a member of the Licking Pentecostal Holiness Church, where she regularly attended, until her health prevented her from doing so. Geneva sang alto beautifully in quartets with Curtis and Zelda Yarnell, Doris Chambers, Deloris Rauscher, Lawrence Hadley, and daughter Debra.
Geneva was preceded in death by her parents, Albert and Minnie, brothers: Carl Ritz and Cecil Ritz and infant boy Ritz, sisters: Thelma Miller, Alma Prier, and Lelah Power, husband Dallas McNew, and grandson Nathan Gunn.
Geneva is survived by her son, Jerry Ryno, daughter, Debra Jett and husband David, stepchildren; Linda Lewis, Dalisa Gunn, Debra Jeffries and husband William, and Sharon McNew. She is also survived by seven grandchildren, six great grandchildren, a host of nieces, nephews, cousins, and friends.
Geneva was a loving mother and grandmother. She will be greatly missed by her family and friends.