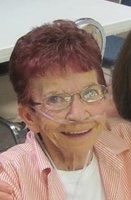 Carolyne F. Huff
Carolyne Faye (Sullins) Huff
Carolyne Faye (Sullins) Huff was born July 6, 1949 to Clabe and Clara May (Skidmore) Sullins. She went home to be with the Lord February 12, 2018.
Carolyne was joined in marriage to Bert Huff on April 5, 1969. They spent 49 wonderful years together. To this union, five children were born: Tony, Kevin, Ramona, Heath and Nathan.
After a lifetime of loving the Lord she accepted Christ as her Lord and Savior and followed in Baptism two years ago.
She worked as a seamstress for 40 years. She loved spending time with her beloved husband, children, and grandchildren.
Some of her favorite pastimes were spent fishing, camping, following her grandchildren around cheering them on at basketball games, going to the casino with Bub, feeding and watching her hummingbirds and watching Family Feud and The Price is Right.
She had a special spot in her heart for all children. Many that were not her grandchildren claimed her as their grandma and she loved them the same.
She is preceded in death by her parents; grandson, Gabriel Huff, two brothers, Narvel and Tilden Sullins; two sisters, Nina Georgia Sullins and Bertha Burgess; father-in-law, Bert Huff Sr.; brothers-in-law, Wayne and Joe Huff; sister in law, Beulah Sullins, and mother-in-law, Nellie (Kinserlow) Huff.
Carolyne is survived by her husband, Bub, of the home; children, Tony (Christy) Huff of Licking, Kevin Huff of Licking, Ramona (C.P.) Wilson of Big Piney, Heath (Jenn) Huff of Licking, and Nathan Huff of Licking; 13 grandchildren, Jacob, JB, and Grace Huff, Casey and Audrey Huff, Wesley, Shelby and Colby Wilson, Payge and Calyn Huff, Ty Wantland, Ethan Branson, and Jasmine Huff; and awaiting the arrival of two great-granddaughters, Madilyn Marie Cook and Landree Faye Todd; her siblings, Harold (Kay) Sullins, Dale Sullins, Harvey (Carol) Sullins, Frank (Pat) Sullins, Zedena (Kenny) Ullom, Maybelle (Benji) Gale, Alta (Jim) Huff, and Geneva Burgdorf; sister-in-law, Sharon Kay Sullins. She is also survived by Bub's family in Texas, step mother-in-law, Evelyne Huff of Miami, TX; sisters-in-law, Ellen (Alan) Duncan, Mary (Steven) Riley of Amarillo, TX, and Connie Williams of Miami, TX; and brother-in-law, Danny (Alice) Huff of Miami, TX; along with a host of nieces and nephews.
Pallbearers were Wesley Wilson, Colby Wilson, Casey Huff, Jacob Huff, JB Huff, Evan Todd, Ty Wantland and Ethan Branson. Honorary pallbearers were Jasmine Huff, Shelby Wilson, Payge Huff, Calyn Huff, Grace Huff and Audrey Huff.
Memorial contributions may be made to Three Rivers Hospice.