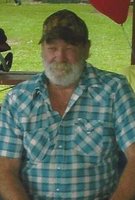 Clifford W. Akers
Clifford Wayne Akers, age 60, of Licking, MO, died Saturday, February 3, 2018 at Cox Health Center, South in Springfield, MO. He was born October 12, 1957 in Jefferson City, MO to Charles Edward Akers and Abbie R. (Butcher) Akers.
He was united in marriage to Belinda Sue Arnett on November 8, 1998.
He enjoyed being out in the woods, playing poker, watching dirt track and stock car races. He was always keeping everyone laughing with his many jokes he told. Clifford had a "heart of gold" and was always there for his family, friends and neighbors.
He was a hard worker and had worked for Callaway County Road Shed from 1978-1985, Lynch town shed in Licking, as well as logging, which in his younger years he logged with horses, with his uncles, he worked for pole mills, sawmills and at the time of his death he was working for Mississippi Valley Forest Products, Inc.
He was preceded in death by his father and two brothers, Roy and Randall Young, one great-granddaughter Kendra Lynn Beasley.
He is survived by his wife Belinda; his mother Abbie Akers; children: Jason (Beth) Akers, Wendy (Timmy) Sullins, Branden Akers, Jason Coble and Josh Coble; 9 grandchildren: Kylie Sullins, Chance Bryson, Kayden Akers, Elaina Akers, Corona Akers, Darian Coble, Michael St. Onge, Melissa Beasley and Brandon Sutton; his brothers Roger, Charles and Diamond Akers; 4 great-grandchildren: Kaden Beasley, Raylin, Jasmyn, Lillyan St. Onge; two sisters Sally Lagesse and Linda Davidson; also numerous nieces, nephews other relatives and friends.