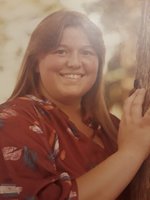 Deborah Ann Edgar
Deborah (Debbie) Ann Edgar passed away Friday, February 2nd, 2018 at her home in Edgar Springs.
Debbie was born on October 23rd, 1963 to Glen and Anna (Harris) Edgar.
She was preceded in death by her father, Glen and one nephew, Dustin James Edgar.
She is survived by her mother Anna. One daughter and son-in-law, Valerie and Dave Wilson, one son and daughter-in-law Steve and Amy Fleming; five grandchildren, Alex, Ashlyn, Aubrey, Aiden, and Ian; three brothers, Kenny and wife Jackie, Jim and wife Beverly, and Roger and wife Jessica; two nieces Katie (Dustin) and Jennifer; eight nephews Travis, Keith, Kenny (Hannah), Austin, J.D. (Liz), Mason, Riley, and Ben; five great-nieces, Destiny, Peyton, Addy, Maddie, and Lorelai; three great nephews Sean, Donnivan, and Gabe.
She very much enjoyed her job at Lowe's, especially all of her work family and customers.
Some of her favorite things to do were spend time with her kiddos and watching them play. Going out for Razor rides with her daughter Valerie, getting muddy and listening to music.
Debbie was always so full of life, and always put her family before herself. She had a smile that could light up a room. She always made everyone feel welcome, and gave the best hugs.
She will be remembered and missed by all whose lives she touched.