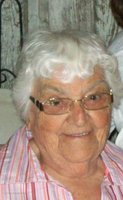 Katherine B. Dewhirst
Katherine Bernice (Shelabarger) Dewhirst, only daughter of the late Neva and Aubrey Shelabarger, was born August 2, 1926 in Easton, Illinois. She departed this life January 24, 2018 at Texas County Memorial Hospital, Houston, MO.
She was united in marriage to Edward T. Dewhirst March 10, 1946.
Katherine was a member of the St. John the Baptist Catholic Church, the Licking V.F.W. and American Legion. She loved her church, family, friends and neighbors. She enjoyed bowling as long as her health permitted and loved to cook and helped and served at the Licking V.F.W. and she enjoyed the great outdoors.
She was preceded in death by her husband Edward, two sons Edward Robert and William Douglas, a son-in-law Lowell Long.
She is survived by her daughter Anita Long , three grandchildren Ronald Long, Jennifer Ferguson and Edward J. Dewhirst; 5 great-grandchildren Robin and Robert Long, Courtney, Loureen and Jared Ferguson; 3 great-great-grandchildren.