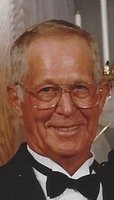 Dale E. Krewson
Dale Eugene Krewson was born August 1, 1935 to Otto Paul Krewson and Meda (Helton) Krewson in Dent County near Montauk, Missouri. He went to his heavenly home on January 8, 2018 at Texas County Memorial Hospital in Houston, Missouri after battling bouts of pneumonia. He was 82 years old. He married Joyce Miller on August 10, 1957 and celebrated 60 years together in August of 2017.
His first job in St. Louis was a supervisor over two cemeteries. In 1973 they returned to Licking and built a home south of Licking, where he enjoyed working with his cattle and also driving a truck for his Uncle Gene Krewson hauling cattle. He later was a truck driver for Thomason Charcoal, hauling raw charcoal. After retiring from there, he worked for Robert Gifford part time until his health would no longer permit. His favorite pastime was working on cars and trucks as he had attended Rankin Trade School while living in St. Louis.
Dale was preceded in death by his parents; brothers, Marvin, Carl, Dean and James; an infant brother, Darrell; and two sisters, Ruby Douglas and Opal (Jo) McClahanan.
He is survived by his loving wife, Joyce of the home; a beloved and special daughter, Stacey Dawn Foote and husband, Ed of Laquay, Missouri; two granddaughters, Faith Sullins and husband, Brian of Licking, Missouri and Vinita (Jake) Lumpkin and husband, Michael of Dixon, Missouri; five great-grandchildren, Clabe, Ripleigh, Wilson, Winter and Elan; two sisters, Donna Gibbons of Arizona and Daisy Layton of Oregon; also a host of nieces, nephews, cousins and friends.
Dale was a member of several boards, Sherrill Township, Boone Creek Cemetery and the Public Water Board, he was also a member of Licking Bridge Builders Senior Center. He belonged to the Masonic Order, a member of Latimer Lodge in Licking and also Order of the Eastern Star of Mary S. Chapter #126 in Houston, Missouri.
He enjoyed telling tall tales and playing practical jokes on his family and friends. He had a special connection with all of God's creatures, from going hunting with his friends and with his pet pig. He rescued many baby animals from the woods and nursed them back to health, this might include anything from birds to skunks. He also enjoyed taking his pet dog, Lady for rides on the four-wheeler.
At the time of his passing he was a member of Licking First Baptist Church, where Pastor Robert Gifford baptized him. The last several years he had been attending Licking Assembly of God Church as long as his health permitted.
Per his wishes, he was cremated and will be buried at Boone Creek Cemetery at a later date.