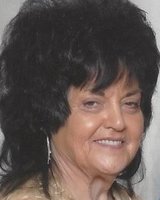 Alta Fay Adey
Alta Fay Adey (Kinder) was born October 2, 1938, along with her twin sister Alma who preceded her in death in 2008, to James "Buck" Kinder and Lillie Avis Harris in Lenox, MO. She went to be with her Heavenly Father January 3, 2018. She attended high school at Licking High School where she enjoyed playing volleyball. Alta married Marvin Adey on December 9, 1956, and to this union two daughters were born, Kathy Bates and husband Daryl of Licking and Tammy Mace of Edgar Springs.
She worked at local factories HD Lee and Rawlings Sporting Goods where she made many friends. Her passion was baking which led her to go in to business with her daughter and open The Pastry Place, a bakery in Licking. She loved decorating cakes for all occasions and continued decorating cakes until she broke her hip in 2009. After she retired, she went to work at the George O. White Nursery and worked nine more years.
Alta and her twin sister Alma traveled all over the country participating in local, state, and national bowling tournaments taking them to places such as Florida, Wisconsin, Niagra Falls, Oklahoma, and Arkansas.
She enjoyed playing Bunko, Skip-Bo, Mexican Train Dominoes, and Chinese Checkers with friends and family. She preferred winning over losing.
In addition to her twin sister, Alta is preceded in death by her parents. She is survived by her husband Marvin, daughters Kathy Bates and husband Daryl of Licking and Tammy Mace of Edgar Springs; four grandchildren Michelle Berry and husband Matthew of Salem, Tabitha Futch and husband Henry of Licking, Lee and Brandi Mace of Edgar Springs; five great-grandsons Dylan, Dominic, and Dannon Berry of Salem and Cyrus and Giovanni Chalmers of Licking.
She loved life and will be missed by all who knew and loved her.