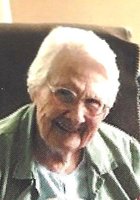 Fern Hassell
Fern Hassell
Fern (Mayberry) Hassell peacefully passed from this life to her eternal life with her Lord and Savior on December 30, 2017 at the age of 99 years and 6 months.
She was born to John Allen Mayberry and Mattie (Noble) Mayberry on June 4, 1918 in Prescott, Missouri one of 9 children.
She was preceded in death by her parents, her husband Chris, a daughter Pam Creech; five sisters and one brother.
Fern spent many hours hand quilting; cooking and gardening. In her earlier years she worked at Rawlings Manufacturing. Her first job was a janitor at the schoolhouse, where she earned $1.50 month. She especially enjoyed her family get togethers and doing a lot of the cooking by herself, she also enjoyed bowling with many of her friends. She was a member of the First Baptist Church, very much enjoyed her Auditorium Sunday School class and attended as long as her health permitted.
She is survived by two daughters, Audrey (J.L.) Friend and Irene (Jim) Lingo; two sons, Wayne (Myrna) Kimrey and Gary Hassell; two sisters, Leota Courtney and Lou Ann Stewart; 10 grandchildren; 27 great-grandchildren; 19 great-great-grandchildren; and numerous nieces, nephews and cousins which include a special niece Glenda who was a great care-giver. She also spent many hours baking pies and working in the kitchen for the VFW Ladies' Auxiliary Post 6337