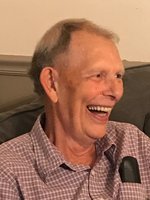 Warren Lee Brunkhorst
Warren L. Brunkhorst was born in Sioux City, Iowa on August 12, 1946, to Harry August Brunkhorst and Lorraine (Kilker) Brunkhorst. He wed Barbara Morehead in April of 1972. Together they had 6 children. Warren passed away on December 26, 2017 at the age of 71.
He is survived by his wife, Barb; son, Jeff, and fiancé, Penny Lane of Rolla; daughter, Lexi Sizemore, and husband Neil of Springfield; daughter, Heidi Lyle, and husband Scott of Rolla; son, Brad, and wife Chrissy of Licking; son, Josh, and wife Beth of Eureka; son, Kyle, and wife Tiffany of Licking. Warren is also survived by seven grandchildren, Kelsey, Kylie, Kade, Josephine, Lauren, Owen, and Reagan and four sisters, Patty, Karol, Karen, and Diane as well as many nieces and nephews.