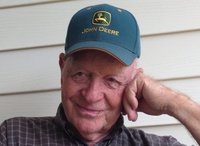 Clarence Watson
Clarence Watson, went to his eternal resting place with his Lord and Savior Jesus Christ Tuesday evening December 26, 2017, making his age 87 years and 225 days of age. He passed away peacefully surrounded by his family at Hickory Manor, having suffered from dementia for the past 10 years followed by a stroke September 26.
He was the youngest child, born to Echles Marion Watson and Myrtle Inez Hayes Watson on April 15, 1930 at Prescott, Missouri.
He graduated from Licking High School in 1949, and married his high school sweetheart, Melvalee Deweese on May 6, 1950. To this union two daughters were born; Judith Jean and Janice Marie.
Shortly after marrying, he and his wife ventured west to Kansas and Oklahoma where he started working in the oil fields. He and his family went on in later years west to New Mexico, Arizona, Utah and Colorado where he was a driller. His family always came first. Wherever he worked he took his family with him. He became widely known in his workplace for his love of God.
On New Year's Day in 1964 he returned to his hometown and the farm where he was raised. Clarence pursued an occupation of carpentry. He went on to become a much sought after builder, building many homes in the area.
Clarence was an avid hunter and loved spending time with his two dogs while on his 4 wheeler.
He was a Charter member of New Life Freewill Baptist Church of Licking, where he worked diligently building the present building.
He was preceded in death by his parents Echles and Myrtle, his brother Milburn Pershing (Geneva) Watson; two sisters Virginia Marie (Leland) Prier and Norma Jean (Prier) Wolfe and Henry Prier.
He is survived by his wife Melva, daughters Judy Dablemont of Cuba, MO, Jan (Paul) Hoemann of Columbia, MO; grandsons Rodrick (Christina) Dablemont ; Jacob (Amanda) Dablemont of Columbia, MO and Jonathan (Marlee) Dablemont of Gerald, MO; Matthew Hoemann (fiancé Jessie) and Nathan Hoemann of Columbia, MO; brother-in-law David Wolfe and nephew Robbie Wolfe of K.C., MO; 3 great-granddaughters Grace and Isabella and Clara Dablemont; 5 great-grandsons Caleb, Lucas, Logan, Cohen and Isaac Dablemont.