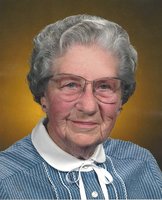 L. Elese Green
Lois Elese (Scholfield) Green peacefully passed from this life to her eternal life with her Lord and Savior Jesus Christ December 23, 2017 at the age of 99 years and 84 days in the Licking Nursing Home-Hickory Manor. Known to her family and friends as Elese, she was born to Walter Bright Scholfield and Beulah F. (Lumen) Scholfield September 30, 1918 in Redfield, Kansas. One of 7 children she was preceded by her brothers Gene, Mick, Dick, Joe one sister Martha and one great-granddaughter Lacey Spencer. Victor is a surviving brother with his wife Bea of Wichita, Kansas along with two sisters-in-law Virginia Scholfield of Derby, KS. and Marilyn Green of Topeka, KS. and a host of nieces and nephews.
Elese was married to Edgar William Green in Redfield, Kansas March 13, 1938 to which union 2 sons were born: Robert Larry Green and Gary Edgar Green. Edgar passed to heaven December 14, 2000 following their 62 years of marriage. Elese was a trained hairdresser, excellent home-maker and mother, friend to many and a gifted maker of innumerable afghans, sweaters, potholders, and dishrags which she shared with many friends and family. She served her Lord and Savior Jesus Christ, remaining an active supporting member of the Methodist Church, all her life.
Elese is survived by her sons Robert L. Green and wife Leann of Licking, Mo. and Gary Edgar Green and wife Maxine of Mtn. Home, Ark. along with Grandchildren, Gregory Vincent Green and wife Sharida of Licking, Robert Bradley Green of Carthage, Mo., Christine Elese White and husband Andy of Republic, Mo., Vanessa Lee Higgins and husband Todd of Lee's Summit, Mo.; and step-granddaughters Kelly Leann Hackman and husband Eric of Licking and Carolyn Lea Moncrief of Licking, Mo. Debbie Clark and husband Nathan of Mtn. Home, AR,; Great Grandchildren, Evan Garrett Green of Lufkin, Texas; Dawson Havens of Licking, MO.; Alyssa Havens of Nixa, MO.; Hayden Bradley, Tanner Wayne , Walker Andrew and Gibson Patrick Green of Carthage, Mo.; Rorry Elese and Parker Andrew White of Republic, Mo.; Lacey Alexis and Luke Anthony Higgins of Lee's Summit, Mo.; Macayla Leann and William Wayne Hackman of Licking, Mo.; and Madi Harned of Mtn. Home, AR.
Elese will be missed by all her family and friends until we meet again. God Bless Lois Elese Green.