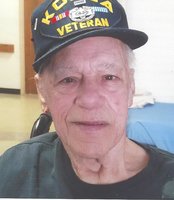 Russell C. Rodda
Russell Clyde Rodda, son of the late Frank Rodda and Mary Sylvester was born December 22, 1931 at Negaunee, Michigan and departed this life on December 17, 2017 at Houston House in Houston, Missouri. He was united in marriage to Jean Lorraine Sandel on August 8, 1953 at L'Anse, Michigan to this union three children were born.
He served in the Army during the Korean War as a Medic.
He was preceded in death by his parents, his wife Jean Sandel Rodda and 2 brothers and 3 sisters.
He is survived by his children: Steven Rodda and Chirstine (Rodda) Davis and husband Lee of California, Timothy Rodda and wife Joy of Washington; 6 grandchildren, 7 great-grandchildren; a brother-in-law Vern Sandel; two sisters-in-law Darlene Rokusek and husband Ken and Sue Hinkle, also numerous other relatives and friends.