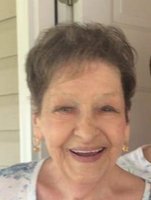 Margaret L. Varney
Margaret L. Varney was born on October 22nd, 1937 to Alice and Richard Wood. She passed away peacefully, knowing she was going with the Lord, on December 15th, 2017 surrounded by her daughters.
Margaret was always a source of unfailing love, safety, and comfort for those in her life. Her memory will be forever cherished by her three daughters, Rebecca Varney, Esther Moore, and Kathleen Bush; her five grandchildren, Dannah Ellis, Linda Holdeman, Katie Moore, Lauren Danforth, and Joshua Danforth; and seven great-grandchildren.
Her family feels incredibly blessed to have had such a loving, generous, and kind woman to raise, guide, and encourage them. Margaret will be deeply missed and never forgotten by her loved ones.