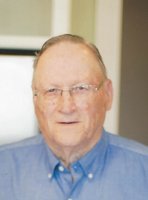 Ray Case
Ray E. Case of Bolivar, Missouri passed away on December 13, 2017 in Springfield, Missouri at the age of 91 years. He was born in Lecoma, Missouri, the son of the late Joseph and Mildred (Leonard) Case. Ray served in the U.S. Army with his twin brother, Roy, from January 20, 1945 to November 17, 1946.
On May 29, 1950, Ray married Norma J. Curtis and to this union two daughters were born: Linda M. Mohr of St. Louis and Verna L. Haun of Bolivar. Ray is survived by his wife of 67 years, his daughters, four grandchildren (Keith Mohr, Beth Mohr, Kendall Haun and Grant Haun), and three great-grandchildren (Amber Mohr, Samantha Mohr and Fletcher Haun).
Ray was a meat cutter by trade working for the Kroger Co. After his retirement, Ray and Norma moved from St. Louis, MO to Edgar Springs, MO and built a new home there. Ray and Norma loved bluegrass music and had lots of fun going to bluegrass festivals where they were joined with friends from St. Louis. Ray was a lifetime member of the VFW in Licking, MO. As he got older, he and Norma moved to Bolivar to be close to one of his girls.
Ray loved the Lord and spent many hours working to get a new church building built at First Baptist Church, Ironton, MO. He became a deacon in 1962 and was a Sunday School superintendent for many years.