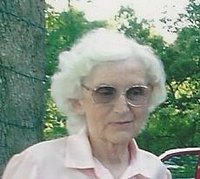 Lillian L. Wallace
Lillian Loraine Haverstick Wallace was born in Timber, MO on July 19, 1925 to William Haverstick and
Ella Bryson Haverstick. She passed away December 6, 2017 at the age of 92.
Lillian was a school teacher at Shady Grove and the Cornell School teaching all eight grades in a one
room school house. She then went on to marry Bill Wallace. They were married March 8, 1947, and to
this union was born one son, Raymond Edwin. She and her family moved to Missouri in 1956, coming to Licking in 1974 where they ran Ray's Riverside Resort until 1990.
Grandma Wallace enjoyed anything that involved her family. She spent many hours transporting and
watching her grandsons play baseball and basketball. She loved spending time and playing with her
great- grandchildren. Lillian was extremely proud of all her family and never missed the opportunity to
brag about them.
Lillian is survived by her son Raymond and wife Pamela; three grandsons Jonathan William, Robert
Douglas and wife Robin, and Raymond Lynn and wife Sarah; four great grandchildren Cole Cooper,Linzie
Ray, Jocelyn Jo, and Audrey Kate; two brothers Bill and Kenneth Haverstick; one sister Mary Ruth Karr
and husband Reed; one sister-in-law Violet Voyles; and a host of nieces, nephews, cousins and friends.