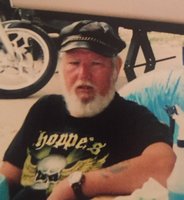 Charles Raymond "Chuck" Cockcroft
Chuck was born in Miami, FL., on March 15, 1954, to Norman and Lois Heap Cockcroft. He passed away on November 28, 2017, in Lebanon, MO.

Chuck spent his military career of 20 years in the U. S. Navy. Some of his favorite ports of call were Malta, Spain, and Italy. His favorite port of all was Norfolk, Virginia, that he always considered his home port.

Chuck is survived by his wife of the home for 29 years, Kay, of Licking, MO., one sister, Norma Gomez of Russellville, TN, two brothers, Bruce Cockcroft of St. Augustine, FL., and Dennis Cockcroft of Galveston, TX., a brother-in-law, Bill Floyd; a stepson and daughter-in-law, Stan and Tammy Taylor of Edgar Springs, MO., 3 grandchildren, Stanley and Jayme Taylor of Licking, MO., Brittany and Jared Keaton of Salem, MO., and Shania Taylor of Edgar Springs, MO., and one great grandchild, Sayde Taylor, of Licking, MO., and many nephews and nieces.

Chuck will always be remembered for his love of cooking, Harley's, and his giving spirit. His last act of giving was he wanted to be a donor, and his ultimate donation helped 50 people. A Remembrance Ceremony will be in the Spring 2018.