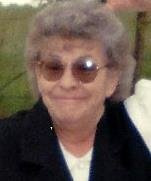 Lettie Kay Martin
Lettie Kay (Powell) Martin was born at Dudley, Missouri to Clarence Edward Powell and Lettie Jane (Hutchcraft) Powell on February 2, 1942 and passed away November 22, 2017 in Springfield, Missouri.
Kay had seven children, one special daughter, Annie Marie Martin (Michael's wife) she was her favorite. On June 20, 1959, she married Jerry Leroy Martin. To this union four children was born, Patricia Jane William from Eminence, Missouri; Brenda Jo-Ann Titus from Eminence, Missouri; Michael Leroy Martin from Goodlettsville, Tennessee (who thinks he is the favorite) haha; Janice Kay Nixdorf from Houston, Missouri. On February 15, 1969 she married Clarence Franklin Martin, to this union three children was born, Lisa Marie Martin from Granite City, Illinois; and Brian Keith Martin form Licking, Missouri. Kay has seventeen grandchildren, Whitley Spencer, Adam William, Jacob Titus, Austin Martin, Shawn Martin, Krista Thomas, Tiffany Iott, Beverly Nixdorf, Forrest Martin, Brooke Collins, J.J. Collins, James Wright, Alvin Wright, Kayla Wright, Jesse Martin, Arianna Martin and Jacob Martin, great-grandchildren, Daniella Buckner, Andrew Buckner, Addean Iott, Emily Iott, Matthew Thomas Madison and David Nixdorf. She has six brothers, Gene Powell (deceased), Thomas Powell (deceased), James Powell, Henry Powell, Albert Powell, Carrol (Bill) Powell; she has five sisters, Cleotus Upchurch (deceased), Sylvia Roger (deceased), Martha Ann Copper (deceased) and a twin Fay Sieber (deceased) and Elizabeth O'Connor. She has a lot of nieces and nephews.
She worked a lot of factory jobs in St. Louis. Then she moved to Licking, Missouri and worked in the woods with her husband for a while. Then she got a job with Rawlings Sporting Goods and worked there for 25 years, sewing baseball, basketball and hockey; even made Mark McGuire uniform (one great player). She enjoyed her job at Rawlings and all the people she met while working there. After Rawlings closed, she went to school and got her GED. She liked to fish in lakes around the area and in her pond; always enjoyed watching the Cardinals play ball, as long as her health was good, she liked to travel. She went to Niagara Falls in Canada and the United States, she liked Canada the best. She went to Massachusetts where she went deep sea fishing a few times and the skipper on the boat helped pull in the fish because they were too big to handle. They made clam chowder on the boat. She went to Tennessee where she did many things. She had never been on a plane, so we got her to go up in a little one and flew over Nashville. Then her health got where she couldn't go no more; she was confined to the house on oxygen 24/7, but she still talked about all the trips she had taken.