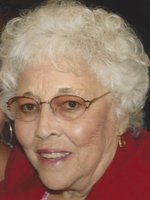 E. Marie Rodgers
Ella Marie (Seaton) Rodgers, daughter of the late Arthur Fred and Mary Elizabeth (McDonald) Seaton was born in Dodge City, Kansas on April 1, 1926 and departed this life on November 13, 2017. She grew up in Wichita, Kansas and attended East High School. She then worked at Woolworths, Kansas State License Bureau and Forth National Bank. In 1944 the Seaton family purchased and moved to a farm in Licking, Missouri. It was there on a blind date that Marie met the love of her life, Roscoe Roy Rodgers and they were united in marriage on November 17, 1945.
Roscoe and Marie sold their car for $700.00 and built a three room house and as their family grew, so did their home. They lived here for sixty three years and raised their children, Anna Marie, Judy Lynn and Johnny Arthur who were their pride and joy. It was a house filled with love.
Marie loved her family, most of all; along with flowers, gardening and working side by side with Roscoe on the farm. Another thing she loved was talking on the phone with her two sisters and her many friends and family members. Everyone was always welcomed into her home and she was famous for her pancakes, homemade bread and cinnamon rolls. Everyone who knew Marie loved and admired her especially her grandchildren and great-grandchildren, who called her Grandma Ree Ree.
Marie dedicated her life to the Lord and was a member of Boone Creek Baptist Church. There she was a member of WMU and helped with many Vacation Bible Schools.
She is preceded in death by her husband, Roscoe; great-grandson, Michael Scott Werkmeister; grandson-in-law, Justin Sparks; her parents; two brothers, and a sister.
Marie is survived by two daughters, Ann Fox and Judy Shelton (Bob), son Johnny Rodgers (Tressia), sister Carolyn Watkins, five granddaughters, Dawn Schieler (Damon), Melissa Werkmeister (Scott), Rhonda Rao (Ben), Deanna Sparks, Lynette Sundell (Justin), one grandson Josh Rodgers (Jaime), 13 great-grandchildren and a host of other relatives and friends.