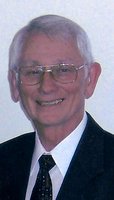 Sterling L. Huff Sr.
Sterling L. Huff, Sr., son of the late Roy K. and Clara Huff, was born May 19, 1936 in Success, Mo. Surrounded by his loved ones, he went home to be with the Lord on Oct. 26, 2017.
He was united in marriage to Millideen Bates on December 8, 1956. They celebrated their sixtieth wedding anniversary last year.
Sterling was saved at an early age and maintained it all his life. He and Millideen were active members of the Pentecostal Holiness Church in Licking. Sterling was instrumental in constructing the new building on 63 Highway, which he considered to be his most meaningful accomplishment. Along with his family, the church and his brothers and sisters in Christ were most important to him.
In addition to being known for his dedication to the church, Sterling was a long-time employee at Friend Lumber Company, where he greeted everyone with generosity and respect.
He is survived by his wife, Millideen Huff of the home; four sons: Sterling Huff, Jr. (Kerri) of Springfield, Mo., Scott Huff (Linda) of Licking, Steven Huff of Licking, and Stanley Huff (Tonya) of Licking, Mo.; sisters Beverly James of Houston, Mo., Karen Foxworthy of Houston, Mo. and Patricia Douglas of Miami, Ok.; brother Gary Huff of Houston, Mo.; six grandchildren: John (Casidy) Huff, James (Brandi) Huff, Sterling Q. Huff, Skyler Huff, Haley Huff and Ty (August) Huff; great-grandchildren Parker Huff , Penelope Huff, Maddisyn Huff and Alyvia Huff; and many other beloved relatives.
He is preceded in death by his parents and his brother, Terry Huff, who was killed in Vietnam, and his daughter-in-law, Sabrina.
Everyone that knew Sterling considered him a Godly and giving man. He is deeply loved and will be forever missed.