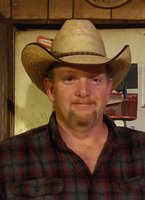 James T. Pugh
James Todd Pugh went to be with the Lord at the age of 45, on the morning of October 20, 2017 in the town of Licking, Missouri. He was born in Stillwater, Oklahoma to Adell (Martin) and Freddie Pugh on June 28, 1972.
James was married to Tracie Lynne Cornell on February 4, 1992 in Eureka Springs, Arkansas. They were happily married for 25 years. He devoted the last 8 years of his life to the United States Postal Service as a mail contractor in Edgar Springs, Missouri.
His hobbies included hunting, camping, fishing, gardening, tending to his animals and just being outdoors. He enjoyed spending time out in his shed, wood-working or working on other projects. His favorite thing to do was travel and spending time with his family every chance he got. They all took trips together as much as possible.
James is preceded in death by his older sister, Melody Ann Borton.
He is survived by his wife, Tracie Lynne Pugh; his five children, Tyler Spencer Pugh, Victoria Elizabeth Nicole Pugh, Alexandria Lockette Broadus and her husband, Melvin Michael Broadus, Cherokee Brooke-Rain Pugh and Dalton Winchester Pugh; his mother, Adell Pugh; his father, Freddie Don Pugh; two sisters, Wendy Snelson and her husband, Shane Snelson and Kim Short and her husband, James Short; as well as three nieces and four nephews.