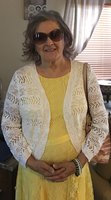 Judith Gwendolyn "Gwen" Lay
Judith Gwendolyn Lay a loving mother, grandmother, great grandma and friend passed away at the age of 74 on Monday October 9, 2017 In Las Vegas, NV.
Gwen was born in Salem, MO on February 19, 1943
Gwen was and always will be an amazing and kind woman who had wonderful sense of humor and a great love for family. There are no words to express how much this angel will be missed. She affected everyone she met.
Gwen was preceded in death by her beloved parents Jesse Lay, Dorothy Fox and step-father,Willie Fox; brother, David Lay; Son, Darryl James. She is survived by her children Jack James (Paula)of Edgar Springs, Mo; Patricia Flint (Kendall)of Las Vegas, NV; Gary James (Diane)Las Vegas, NV; Jay James (Jenny)Ozark, Mo; Tammy James (Felipe) Las Vegas, NV; Tim James(Ann) of Las Vegas, NV; Rusty James(Shirley) of Las Vegas, NV. Teresa James wife of Darryl James(deceased) of Converse,TX; one brother Terry Fox (Janet) of Richmond,VA; she is also survived by twenty grand- children and 15 great grand-children also nieces, nephews and cousins. She will also be missed by her loved dog Bandit.