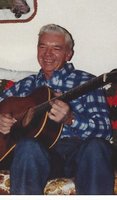 James Robert Sisk
James Robert Sisk was born January 9, 1931 to Ray and Elsie (Rowland) Sisk and passed away peacefully at his home on September 19, 2017.
After serving two years in the Air Force, he married Gretchen Swarzel and to this union one son was born, Larry Ray. Later in life he married Judy Kay Stevenson and to this union, two daughters were born, Bobbi Jo and Jami Rae.
He worked for Operating Engineers Local 101 for 33 years. When he retired, he moved his family to Licking, Missouri so that Judy could be close to her family.
He was preceded in death by his parents; his son, Larry Ray; his daughter, Bobbi Jo; a granddaughter, Arianna Markee and his sister, Norma Rae.
James is survived by his wife, Judy; a daughter, Jami Rae; sister-in-law, Joyce Rodenizer; nieces, nephews, cousins as well as friends, Barbara Stevenson and Carolyn Lyons.